Website Design, Hosting, & Maintenance
We work with churches, schools, non-profits, and businesses to get their message out with great websites!

Website Design
Let us design your website to fit your brand and your message.  We'll work with you from the beginning to ensure that you are happy with the end result and that your visitors are too.
Hosting & Maintenance
We provide top notch hosting for the speed and security of your website.  Daily website backups, monitoring, and maintenance updates are only a sample of the value we provide.
Site Content Updates
Tired of keeping your site updated with the latest blog post or bulletin.  No worries, we can help you!  Just send us what you want on your site and we'll get it out there.
MOBILE FIRST DESIGN
The majority of your website traffic comes from smartphones so why not build your website to ensure a great experience for your visitors on their phones.
SPEED
Search engines now look at the speed of your website.  We host our websites on the latest servers that are optimized for speed.
SECURITY
Our goal is to keep your site secure from the bad actors out there.  A secure hosting environment and keeping your site up to date are just some of the ways we keep security first.
BRANDING
We will use your logo, color scheme, and font.  Don't have one or any of those?  No concerns, we can help you with that too.
SEARCH ENGINE FRIENDLY DESIGN
Our sites are designed to be great designs for your visitors as well as for the search engines. 
DAILY WEBSITE BACKUPS
No need to worry about site issues or doing anything wrong.  We have your back with daily full site backups.  We can easily recover your site and get it back to where you had it.
POWERED BY WORDPRESS
WordPress is the number one content management system with over 60% of websites using it.  That is why we use it too as it provides great options for functionality and ease of use for our clients.
AFFORDABLE
We work hard to keep our services top notch but also affordable.  Let us know your budget and we will be sure to work within it.
Recent Work
We offer website design, hosting, and maintenance services.  See a sample of the sites we work with below.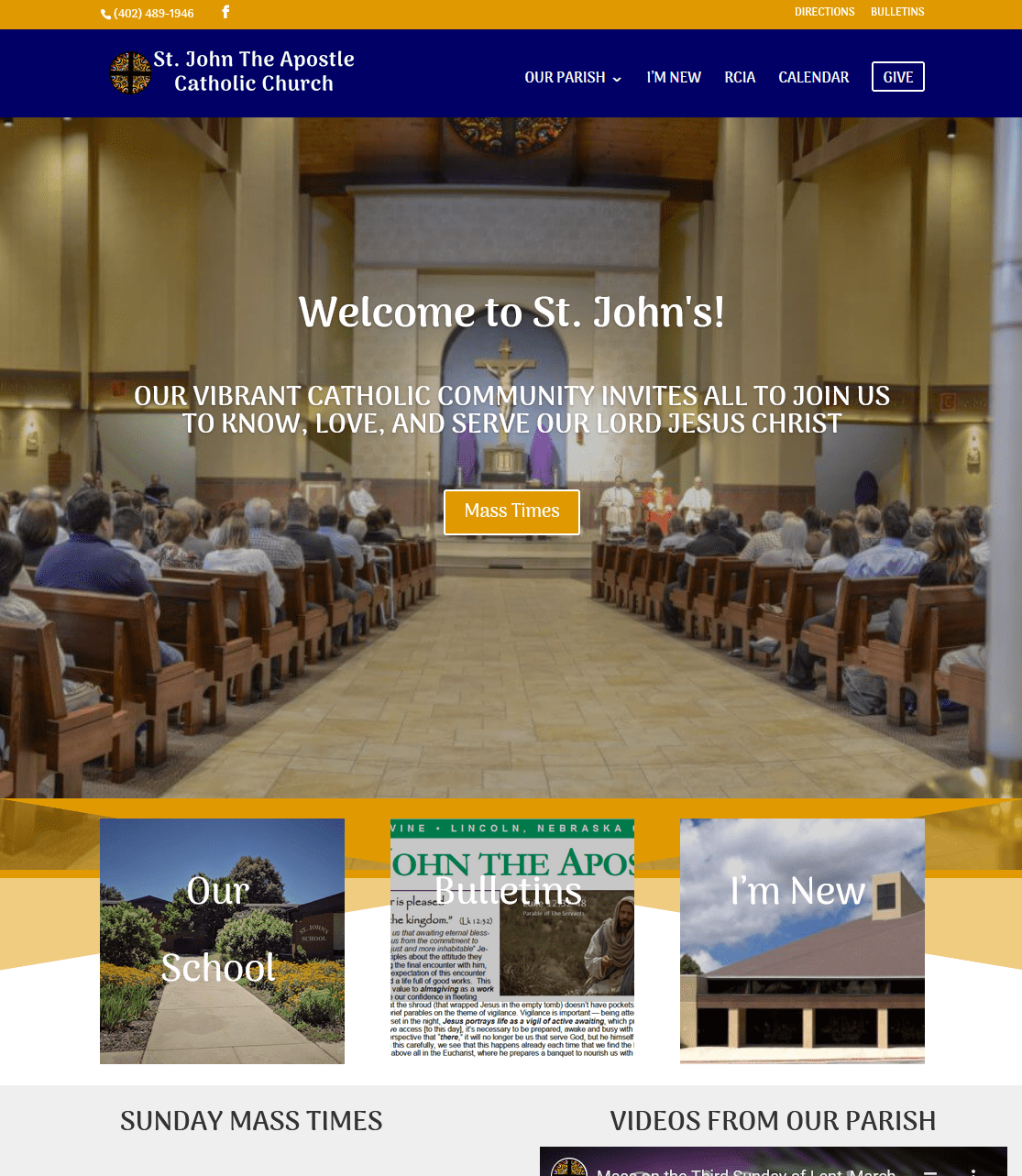 St. John The Apostle Catholic Church
Blessed Sacrament Catholic Church
Let's Work Together
Give us a call at (402) 261-2244 or use our contact form to tell us about your project so that we can work with you to figure out the best way to meet your needs. 
We are proudly located in Lincoln, Nebraska but glad to work with anyone from Nebraska, the Midwest, and beyond.
We ensure that our prices are affordable for all budgets, so reach out today and get your project started!
TELL US ABOUT YOUR PROJECT